London's knife crime crisis: meet the people with possible solutions
The Guardian Newspaper asked campaigners, experts and ex-gang members how to stem the tide of knife violence in the capital
A report by Rebecca Ratcliffe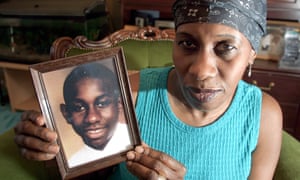 The mother and campaigner
Patsy McKie, founding member of Mothers Against Violence, Manchester
We sometimes think [tackling gang violence] is something that one has to do outside of the people who are doing it. We have to see what's happening, and what it's causing, in our communities. Then we have to move away from that and do something different.
We need to actually find out from the young people why they think it's happening and what they think can be done. Things have got to a place where too much has gone on to stop something just like that. You really have to find the people who are doing it – and we really don't find them, and if we do they don't talk to us. If you teach a child something, especially when young, it stays with them for ever. We need to teach children good habits so that when they grow up they're still in that habit. Addiction is a habit – they become addicted to something and they can't stop, or they think they can't. It's so difficult to stop something you've always done before. We go to junior school, and PRUs [pupil referral units], secondary school and colleges and universities. [Young people] tell you some of the things older people will say – there's not enough policing, there's not enough of this or that. There will never ever be enough of everything that we need. What we need to think is: how we can change things with what we've got? That's what I tell them.
The medic
Dr Christine A Goodall, director of Medics Against Violence, Glasgow
What has worked well here [in Glasgow, where the number of homicides has dropped by almost half since 2007], is that w e looked at violence in the round. [We adopted a public health model] which means everybody has to work together. It's absolutely not just a policing issue, it involves everybody: schools, communities, hospital, prisonsand we work in workplaces as well. We had seen so many young people injured as a result of violence that we decided we had to do something about that.
We put together a programme that we use in schools. I hope we present them with enough information in order to make decisions about what they're going to do, because they carry with them a lot of myths about the safety of violence – and what you can get away with doing and it still be ok. The idea that there's a safe place to stab someone, not understanding how quickly you can lose your blood volume, and at what point that become irretrievable and the fact that medicine can't actually save everybody
This is not party political statement, but our government is very supportive of reducing violence, all parties in Scotland would be. We don't want the label of the most violent country in Europe.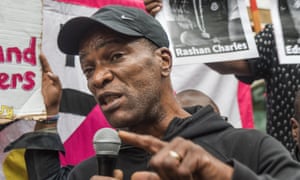 The grassroots campaigner
Stafford Scott, co-ordinator of Tottenham RIGHTS and race advocacy officer for the Monitoring Group, an anti-racist charity that promotes civil rights
This is a situation that was made by government. They claim they were trying to tackle it using law and justice agenda. They're trying to police a situation that they have contributed to greatly. Do you think these young people who are behaving the way that they're behaving, engage with the media to even know there's a lack of police? These young kids – they see police every single day. That's part of the problem, they're being oppressed and harassed by the police continually. And the rest of the public sector is in the pockets of the police.
They've built a system that kicks young black kids out of schools at a very early age, they stigmatise them with the type or label meaning gangs and they remove all services from them.
The stigma of being in a gang even means they become marginalised and ostracised within their own communities. The system that has created this has to stop. The multi-agency approach where everybody in the system is looking to structural characteristics to identify gang members is misinterpreting the behaviours of young people. What the system needs to do is build the capacity of our community. The Oliver Letwin letters [showing that inner-city black communities were denied funding on the basis they would waste it all on the "drug and disco trade"]: every government since seems to have been led by the policy in that letter.
Our black voluntary sector has been decimated. As a 17 year old I went to prison for three years, when I came out of prison I was supported by the black voluntary sector. They built my capacity to be able to work with others who looked like me, represent others who look like me and reach my potential. The black voluntary sector would have made sure these kids didn't feel so isolated and marginalised and angry that they would carry out the kinds of heinous and violent disgusting crimes that they're doing today.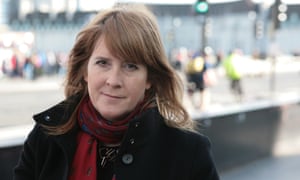 The MP
Sarah Jones, Labour MP for Croydon Central and chair, all-party parliamentary group on knife crime
Our ambition should be to become the safest country in the world. Anything less is letting our young people down. Savage cuts to policing must be reversed – but that is by no means the only issue. Knife crime has been rising across the UK since 2014. Increasingly younger people are carrying knives. Lack of public services like youth work, education and mental health have left a vacuum that is filled by an increasing macho culture that glorifies violence. To break this cycle, we must treat violence like an epidemic – a public health problem. This approach has worked in Scotland, and in American cities like New York and Chicago. That means treating the problem at source – intensive youth work with young people who are involved in carrying weapons or dealing drugs to get them out of dangerous situations.
Using local community groups with local expertise and shared lived experiences. It means inoculating the population against violence through education, mental health, and training so we prevent young people getting into this situation in the first place.
To get this right we need leadership and commitment from the prime minister with proper coordination and resources. I canvassed a young lad in the general election and we talked about lack of youth services and jobs for young people. He had little faith in us politicians changing things. He was stabbed to death last month in Croydon. We let him down. We can't keep letting our children down.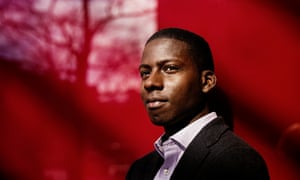 The education expert
Lewis Iwu, former director of the Fair Education Alliance and campaigner for greater education equality
Education is the only sustainable way of tackling this problem. Too many young, particularly BME [black and minority ethnic] boys are permanently excluded from school. A black Caribbean boy eligible for free meals and with a special need is 168 times more likely to be excluded than a white British girl without special needs or free meals. That is nothing short of a scandal.
After being pushed out, these young men are sent to alternative schools, where they are twice as likely to be taught by unqualified and temporary teachers. Almost all will fail to get the GCSEs needed for college or employment. And, because the hours in alternative schools are lower, they have even more time to run with gangs. In the end, 60% of prisoners come from this group of excluded young people.
We shouldn't get distracted by the noise around stop and search. It's time to create a movement to secure more funding for school programmes that addresses the issues driving some young people into criminal behaviours. Or, if that isn't possible, improve alternative schools.
Programmes like The Difference – modelled on TeachFirst – are seeking to get committed, quality teachers to move from mainstream into alternative provision to turn this tide. Debate Mate builds the confidence and speaking skills of young people from disadvantaged communities, keeping them in school.In the end, we have to keep these young men in a world that will support them towards legitimate employment or we will lose more of them to one of criminality. Or tragically lose them.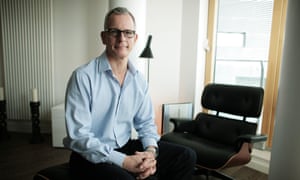 The former police leader
Brian Paddick, Liberal Democrat home affairs spokesperson in the House of Lords, and former deputy assistant commissioner of the Metropolitan police
The reduction in police community support officers has been far greater than the reduction in police officers. PCSOs can be made redundant, because they're employees – whereas police officers can't because they're servants of the crown. In order to make the budget cuts that the government has demanded of them, it's the PCSOs that have been devastated. Those PCSOs were the link with the community, gaining the community intelligence, the visible presence on the street, reassuring the public.
It's increasingly younger people who are becoming involved. One issue is safety. That you need to have a knife in order to protect yourself is accepted wisdom in a way it didn't used to be in the past. The other is increasingly younger people are being drawn into drug dealing and county lines [movement of drugs]. They're being exploited by older guys. The commissioner [of the Met, Cressida Dick] has said she wanted officers to target those who are known to be involved in violent crime and arrest them for any offence possible in order to get them off the streets. That's problematic unless it has the support of the community. If communities perceive that their young people are just being picked on for no reason by the police then that's going to be counter productive. Most of the serious [perpetrators] are people who use weapons to threaten people and to stab people they are known in their communities because their reputation is built on threatening with and using knives. Communities know who these people are, and what the police need to do is encourage the community to come forward. If the community perceives that young people are being targeted indiscriminately or without good reason then that trust in the police is going to be lost
Back in the 1990s and 2000s where there was an epidemic of young black men dying as a result of gun crime. It got to the point where community leaders decided that in order to stop their young people dying it was worth cooperating with the police. I think we're rapidly approaching that point now with knife crime. If the police make the right approaches, and reassure community leaders that they should join forces together against knife carriers, then there is the potential for stop and search to become far more effective. This would mean targeting individuals that the community have highlighted to the police, rather than the police trying to do it on a less scientific basis.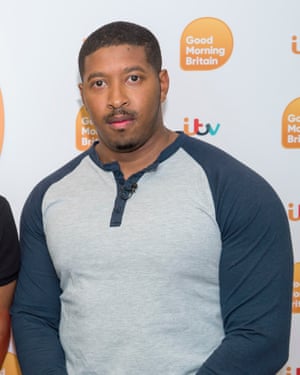 The former gang member
Sephton Henry, gangs consultant for Gangsline, a non-profit group that supports young people involved in gangs, and a former gang member
I was eight when I got groomed into gangs. I've seen stabbings all my life – I've seen my friends die all my life. You're talking about it now because it's coming on to your radar. We've been living it for however long. They're acting like it's a new thing when it's been around forever. The people that they're putting in power to roll out different schemes, they're not former gang members – they've never lived that lifestyle, they don't have that perspective.
[Children] start selling drugs from when they're 12. By the time anyone gets to see them – when they come up on the radar – they're about 14, so they've been in it for two years. At Gangsline we want to go into the primary schools but it's hard for us to get in because they [schools] want to act like they don't have a gangs problem, even though we want to prevent gang problems.
They just spent £1.35m on a campaign [the Home Office's #knifefree adverts], and it's a video of young kids that have been stabbed. If we gave that money to young gang members to build a business and take them off the street, I guarantee it would make more of an impact than some video. It [the video campaign] just sounds good to them and everyone else.
Young people might watch a video, and then it will go out their head two minutes later because they're listening to drill music. Drill music glorifies stabbing someone up, it tells you to stab someone up. If you're listening to it every day, how's that one [advert] going to override that? I want to be able to sit down with all of the people [police officers, social workers, probation officers and teachers]. The key would be that we would have cross-border meetings with all of them. I would funnel schemes for each one to push through. I can't do it on my own. The police need to be involved, the social workers, the youth workers, all the community. But I need the resources and access to do what I want to do.
Source: Guardian.com